No....not yet! I hate saying this as I haven't been right yet but I expect us to start moving in by mid-July.
• We are still painting rooms. Probably for another 3 weeks. The problem is that all wall and ceiling surfaces need to be skim-coated. My GC was trying to keep the costs down by spot patching the walls and in hindsight it looks like it ended up costing me quite a bit more because it takes forever to spot fix these walls with all of the wood trim everywhere.
A
MAJOR Lesson Learned
here is plaster the whole house or go in with the plan to skim coat over ALL drywall surfaces. The bottom line is drywall may be faster and cheaper if your building a bunch of condos but it ends up costing a lot more if you are trying to do a good quality job. About half of the screws popped out with all of the hammering due to woodwork finishing.
• Dave Barlow has finished the stairs and wainscoting and is now working on the staircase railing. After that, he should be done. He's been with us 1 year now, did all of the interior woodwork, and was only hired to do the stairs. Unbelievable!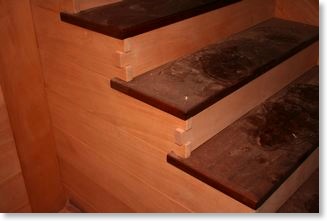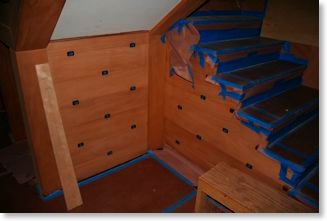 • Landscaping is going pretty well. The front driveway is complete, the front pathway is just about done, sprinkler valves are in, final grading and irrigation starts next week, and the waterfall/pond will finally start next week.