Visit the Craftsman Home Remodeling Website

Monday, December 27, 2004
It started to rain so a last minute decision was made to not remove the roof.

Posted by

Unknown
at 4:26 PM
No comments:


Thursday, December 23, 2004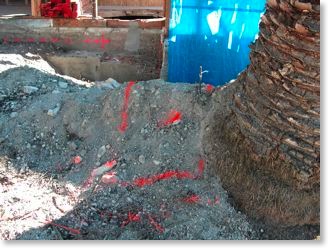 We ran into a little snag today. A footing (~8 ft. deep) can't be put in because it is adjacent to the date palm tree. The contractor called me over to the house and by 9AM he was on the phone with the structural engineer for a redesign. Since we can't put the footing in (kill the tree) or move the tree (block the view), we are going to put in a 22 ft steel beam (1200 pounds) to cantilever the upper deck.
Posted by

Unknown
at 4:21 PM
No comments:


Wednesday, December 22, 2004
With all of the cutting away of the floor for the foundation reinforcement and the rain we have been having, today we decided that it is more trouble than it's worth to save the hardwood floor in the living room. This is 2 1/4" quartersawn oak at about $12/sq ft installed. With all of the holes in it, it would be very hard to match new to existing wood without seeing where it was patched. Also, the wood is only 1/2" thick instead of the standard 3/4". This just complicated the problem.

The middle of my living room floor is being cut so the foundation can be reinforced.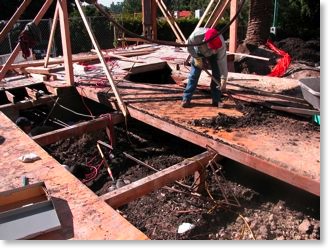 Posted by

Unknown
at 3:23 PM
No comments: