Visit the Craftsman Home Remodeling Website

Sunday, January 19, 2003
Today is a big day! A retainer was given to Olympia Greer, our architect, to start work.

Posted by

Unknown
at 12:30 PM
No comments:


Saturday, January 18, 2003
After interviewing several people, we chose to go with
Olympia Greer
. We chose her because she has a great design sense and lives and works in Palos Verdes Estates.
Posted by

Unknown
at 3:06 PM
No comments: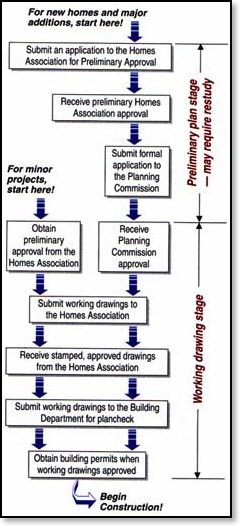 Before I get into the daily details, it would first be beneficial to tell you how the construction process works in Palos Verdes Estates. I found a great picture on their web site that is posted below. Basically, all construction needs to go through the Art Jury, part of the PVE Homes Association, and the the City's Planning Commission.

The first step is to get your drawings approved for aesthetics by the Art Jury. After their blessing, you can then go to the Planning Commission where they will weigh in on neighborhood compatibility, and listen to any neighbor's concerns. If there are concerns, you go before the Planning Commission and defend or compsomise on your position. The 5 members then vote to approve or deny your request for a permit. A majority of 3 members is required to grant approval.

Posted by

Unknown
at 2:53 PM
No comments: