Yes, I'm delinquent with the update again.There are a lot more pictures that I haven't had a chance to put on the site yet so keep checking back. A lot is going on around here.
• I'm really busy now creating the stained glass for some authentic Gamble House reproductions. The stained glass will be different and my own design. I'll tie that into the front door window whenever I get around to it. Go to
Old California Lantern Company
to see the best Arts & Crafts lanterns. I went in there and 3 1/2 hours later I outfitted my entire house.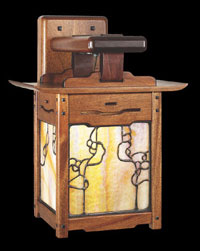 • The hardwood floors are being installed right now. It is long-length (8'-16'), quarter-sawn, 5"-wide, Brazilian Cherry. We are having a slight bevel put between the planks to give it an older look. The floor will be stained black, sanded, and then stained with a green dye to subdue the bright reds associated with Brazilian cherry.